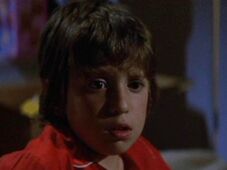 Robbie Freeling is the middle child of Steve and Diane Freeling. He has an older sister named Dana Freeling and a younger sister named Carol Anne Freeling. He is the only son in the family. He appeared in Poltergeist and Poltergeist II: The Other Side and he did not appear in Poltergeist III.
First encounter with ghosts
Edit
Robbie lives with his parents and his two sisters. He has to sleep with Carol Anne until she is kidnapped. He is moved to sleep with Diane in the living room. He almost swallowed up by the possessed tree and almost blew out by the tornado. With Carol Anne and Diane, his house is vaccumed up by ghosts and forced to spend the night at the hotel with Carol Anne, Diane, Dana and Steve.
Second nightmare with Henry Kane
Edit
With his new life, Robbie, Carol Anne, Steve and Diane moved with Diane's mother, after his grandmother passed away, again in fear with sprits. He had braces on and Henry Kane wrapped the brace all over him. With Steven, he rescued Carol Anne and Diane and his nightmare is over.
Poltergeist III
Edit
He did not appear because he sent Carol Anne to live with Pat, Bruce and Donna,but he is in high school by the third of nightmare of Carol Anne occured.